A stock price that breaks out to a new high or new low is showing strength or weakness in either direction. I know that is stating the obvious but we can use stock breakouts to our advantage. Traders often look for a stock that has made a new 10, 20 or 30 day high (or low) and find candidates for trades.
There are many ways to trade a breakout, such as entering on the first pull back etc but that is not the purpose of this article. Here I will show you how you can find stock breakouts using our free stock breakout screener or our pre-set filters in StockMonitor to build watch lists of potential trades.
10 Day High Stock Breakout
First of all let us look at a 10 Day high stock breakout. I found this one just now by running our Breakout 10 Day High filter and selecting the 2 day candle offset to find stocks which had already broken out over the last few days.
You can see clearly on the chart that 3 days ago it closed with a bullish candle (the close of the day was the high, the open of the day was the low) above the 10 day high drawn on the chart. The following two days followed through with the same bullish strength and began to climb higher.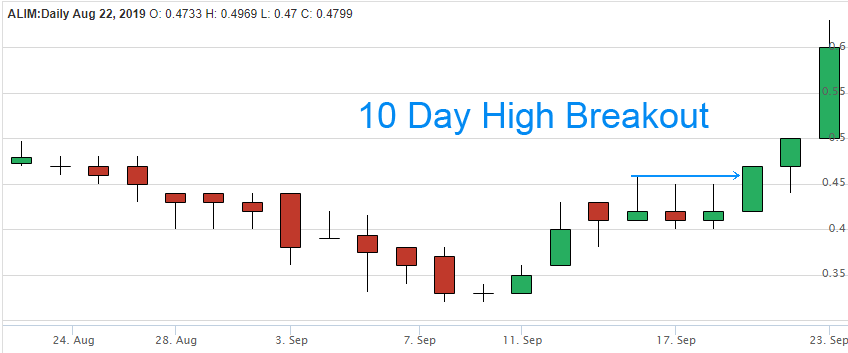 You can search through any 10 Day high or low breakouts with our pre-set filters. You can find them on the main filter area under the menu "Price, Gaps, Breaks" .. see the image below of where that is.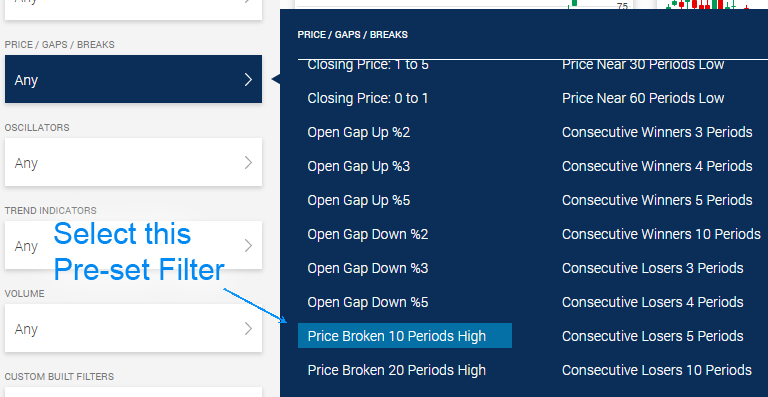 30 Day High Stock Breakout
On the next image here we see a stock with a breakout of a 30 day high. You will note that the first candle that breaks out ends up pulling back to close below the 30 day high. But the following day it breaks again and closes bullish with the high of the day being the closing price. This can often lead to a follow through if the general market is strong. It is a sign that there are no sellers at this price yet.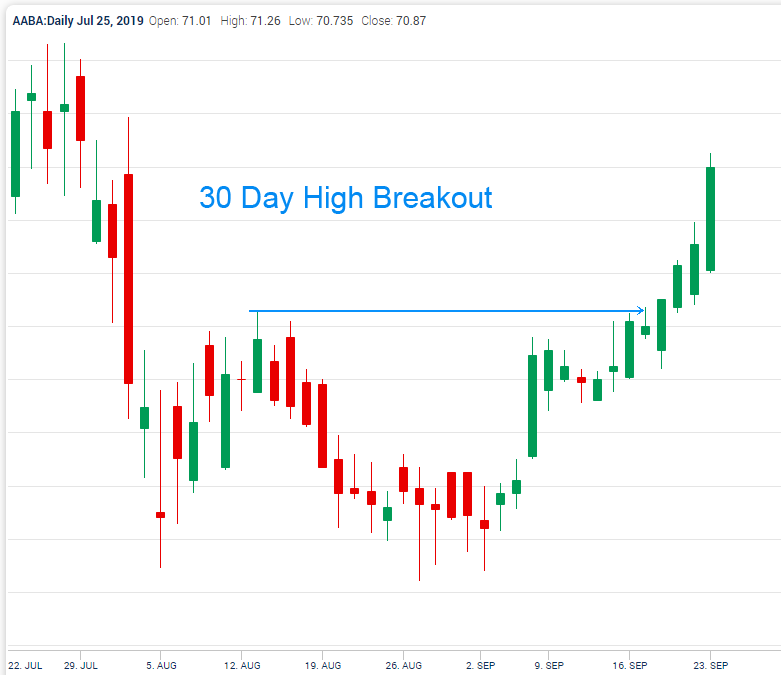 If you had ran the filter and caught the stock in your results when the first candle broke the high, you could add these to your breakout watch list and see which ones break back above and close bullish. It is better to be safe that the stock breakout has momentum and is not going to fall back into the range.
Try out StockMonitor free for 14 days here and begin building watch lists of breakout stocks.
You can also read our older article on Stock Breakouts here