This week we added a new pre-set filter to our technical analysis screener, stocks that have moved up or down by 5%, 10% and 15%. You might find this a easy way to see the strongest or weakest stocks on the market each day.
In this post, I'd like to show you an idea of using the highest climbers and volume to discover new trading candidates.
As you should know, volume tells you how many transactions have happened in a particular stock. Whilst it's useful to know whether it was buying or selling volume, sometimes you don't even need this information. All you need to understand is there is currently increased interest in the movement of the stock.
By using our volume higher than 30 day average filter, you are able to discover stocks which have people buying and selling more than usual. Combining this filter with stocks that have printed a strong gain can give you the direction that the traders are taking.
Let's look at a quick example. I have just run the "Change up 5%" filter on the S&P500. It produced 4 stocks that have moved up by that amount today.
Next I combined it with "Volume up 25% to 50% from 30 candle average". It left one candidate. CHK.
Looking at the chart, you can see that it bounced by a similar amount a few days ago, with a similar amount of buying volume, from around the $5 area. This is telling you that there are buyers who see some value at this price, and could end up being a possible support.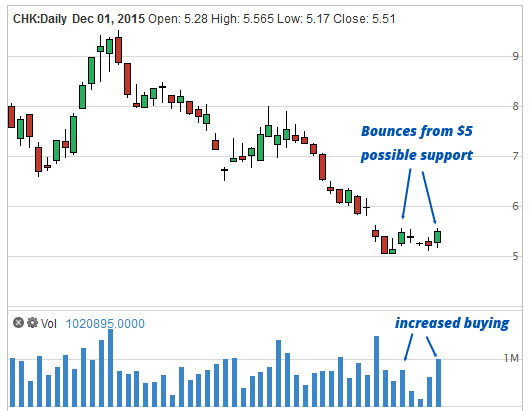 Now it would be foolish to jump straight in and buy on this signal. But it's certainly worth watching the stock in your watch list. Looking in the news next to this chart, there is an article dated today that has the title: Analysts Set Chesapeake Energy Co. (NYSE:CHK) Target Price at $11.10.
This has maybe prompted some buyers, and it would be worth seeing if the strength can continue and give an opportunity to hop on board. After all, a rise to $11 would be near 100% gain from this level.
If you want to see this stock, and discover many more opportunities using our technical analysis screener.